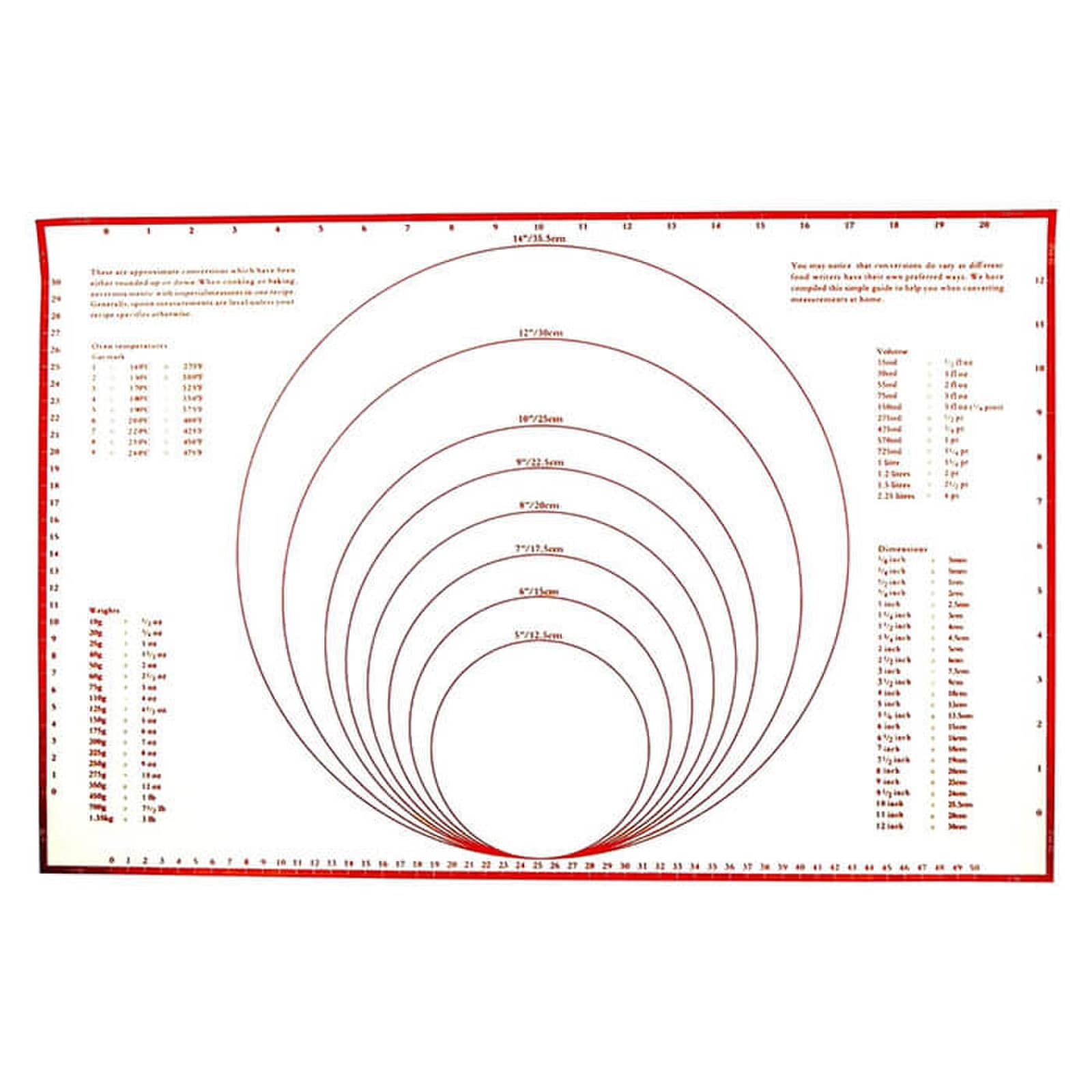 Silicone Baking & Pastry Mat
Item #: 4419
This non-stick baking mat with pre-marked measurements for easy rolling and precise cutting! Designed for all oven types while providing even heat distribution for your baked items. Includes diameter circles for pie, tarts and pizza crusts from 5" to 14". Also has pre-marked inches and centimeters for exact cutting of lattice strips. Oven temperature conversions of Celsius to Fahrenheit. Weight conversion of grams and kilos to ounces and pounds. Volume measurements from ml and liters to fluid ounces and pints. Made from food grade silicone with glass weave.
Use and care :
Place baking mat on sheet pan with writing face up. Lay products that is to be baked or frozen on top of the mat - no greasing is required. Bake according to the recipe instructions. The mat can withstand temperatures from -40 degrees Fahrenheit to 480 degrees Fahrenheit. Wipe the mat with a damp sponge, soft sponge then rinse. Do not place in the dishwasher. Shake to remove the excess water and allow to air dry. A weak solution of water and soap may be used if needed. An oily feeling after washing is normal, as is any discoloration that may occur. Strong flavored foods may leave a trace of their scent on the mat. Store the mat flat or roll up, do not fold.
Caution : Do not use brushes or scrapers to clean the mat. Do not cut on the mat. Do you use the mat with the broiler or on the grill. Do not cut on the mat. Never use a cut or ripped mat as glass weave could fray and migrate to food.
Mat is 23 1/4" x 15 1/4" / 59.06 x 38.74 cm
Color of print may not be as shown
Price: $32.69
Currently Out of Stock