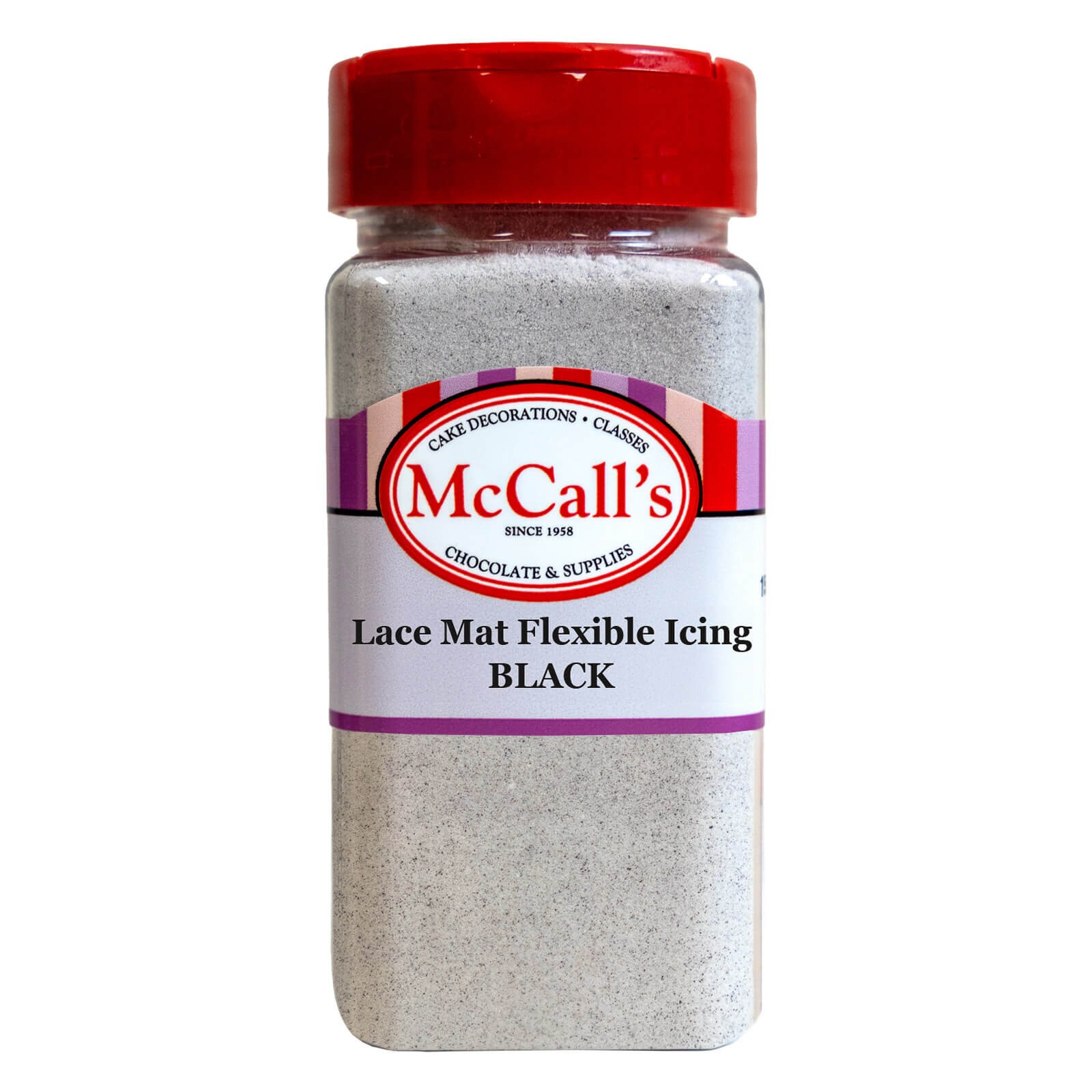 Lace Mat Flexible Icing - Black 100 g
Item #: 17575
McCall's Magic lace icing – works with all silicon lace mats
Mix icing with hot water and mix for 5 minutes on low speed with flat beater.

6 tablespoons dry mix (50 gm) to 4 tablespoons hot water (60 ml)

When ready Icing will be thick (similar to mayonnaise)

Spread icing over mat, it may take a few passes depending on how detailed the mat is. Make sure the lace looks solid with no air bubbles.

It is recommended that you spray detailed mats lightly with pan release first, this will help releasing the fine detail in the mats.

There are 2 ways to set the icing:

You can let the mat sit for 4 to 5 hours at room temperature for flexible icing to set. (I may take longer depending on the humidity)

Or you can also put it in an oven to speed up the process for 10 to 14 minutes at 80 Celsius/175 F.

Times will vary depending on the mat and oven temperature and thickness of the mat design. We recommend you have a second oven thermometer to validate your oven temperature is correct.

Gently peel the lace icing off the mat. If lace is still soft and does not peel off ( gets stuck in mat it is not ready, let set 1 more hour at room temperature or bake for 2 minutes extra. If mat is dry and breaks (crumbles ) reduce bake time 2 minutes or let dry 1 our less

Icing will remain flexible for a few days depending on how thick the mat is and the humidity in the air.

The icing can be piped on any non-stick mat to create any flexible design and pattern you would like. Let air dry or bake as in above instructions.

You can color the flexible icing with water soluble powder colors use gel or past colours

For 2 color, lace mat design plus a back ground color. Follow the above steps as above, bake lace design for 10 minutes. Let cool and add the back ground color and bake another 10 minutes.

Store finished lace pieces in parchment paper then in a plastic bag

Store the unused McCall's magic lace icing in the fridge for 7 to 10 days when not in use.


Please note: drying times are variable as to the thickness of the mat or item piped and the humidity in the air. The above are guide lines.
Price: $7.49