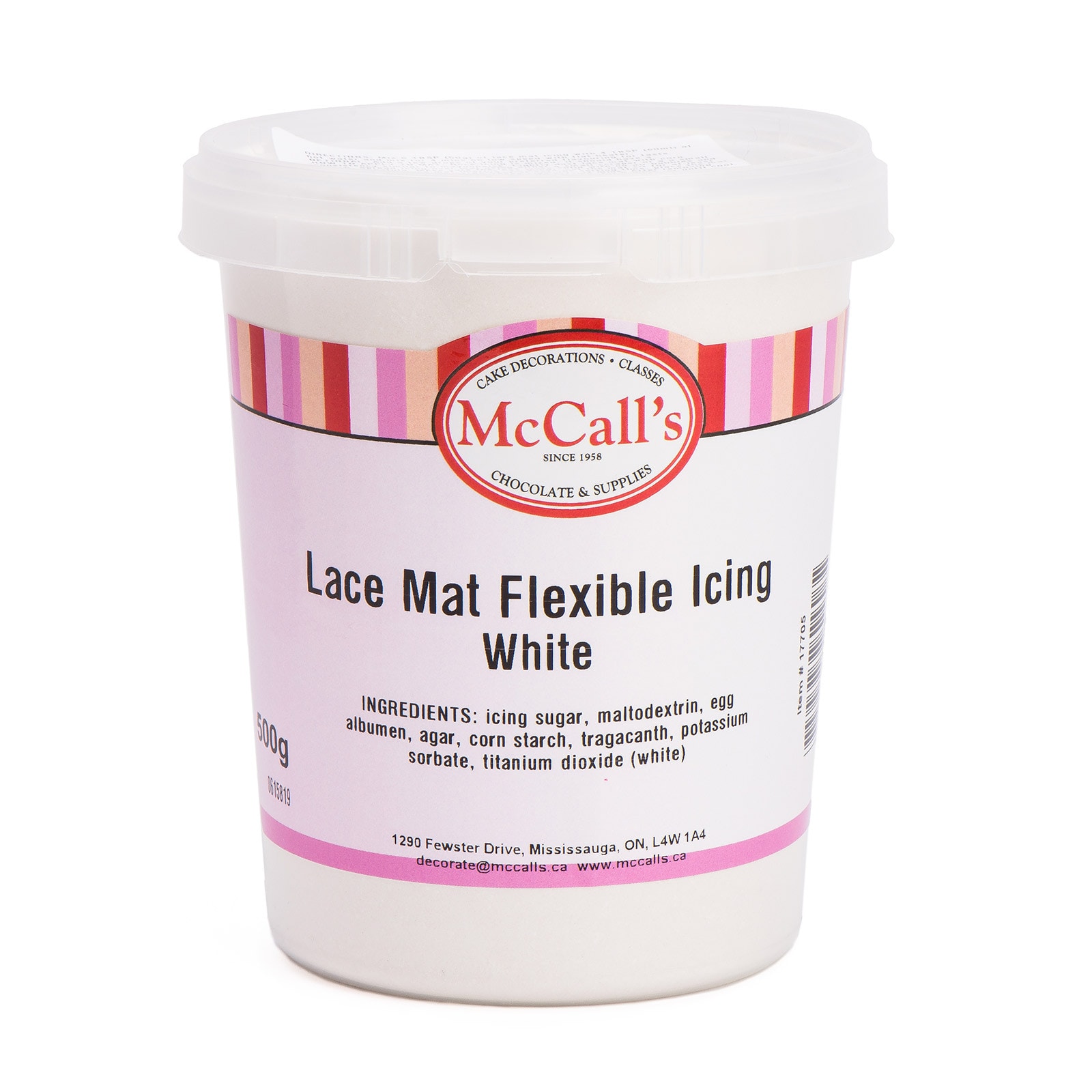 Lace Mat Flexible Icing - White 500 g
Item #: 17705
DIRECTIONS:
Mix 6 TBSP (50g) of lace mat icing with 4 TBSP (60ml) of hot water and mix for 4 mins on low speed with flat beater.
Once icing is mixed, it should have a consistency similar to mayonnaise.
OPTIONAL: Add a few drops of your preferred flavouring for taste.
HOW TO APPLY TO MAT:
Lightly dust lace mat with corn starch.
Spread icing over mat using either a small scraper or a a small off-set spatula. Make sure the lace looks solid with no air bubbles and clean (only the lace mat imprint has icing).
Let the mat sit for at least 4-5 hours at room temperature.
To speed up setting time, place the mat into an oven preheated at 80°C/175°F for 10-12 mins.
After removing the mat from the oven, let it rest at room temperature for 5 minutes or until cool.
Gently peel a small section on one side off of the mat and then flip the mat upside down (icing side down).
Using a flat scraper (or your hand) gently peel the mat away from the lace. If lace is too soft or sticky, let the icing set for about 1 more hour at room temp or place back in oven for an additional 2 minutes .
NOTES:
Drying times will vary depending on the humidity and type of oven used. We recommend using a second thermometer to check if your oven temperature is correct. The above are guidelines.
Icing can be piped on any non-stick mat to create your desired flexible designs.
Icing can be coloured with water soluble powder colours. Gel or paste colours can be used for light tinting. Store in the fridge for 7 to 10 days when not in use.
For 2 color lace mat design plus a background colour. Follow the above steps as above, bake lace design for 10 minutes. Let cool and add the background color and bake another 10 minutes.
Time listed above is based on a convection oven at 80°C.
Store finished lace pieces in parchment paper then
in a plastic bag
Store the unused McCall's magic lace icing in the fridge for 7 to 10 days when not in use.
Price: $19.79