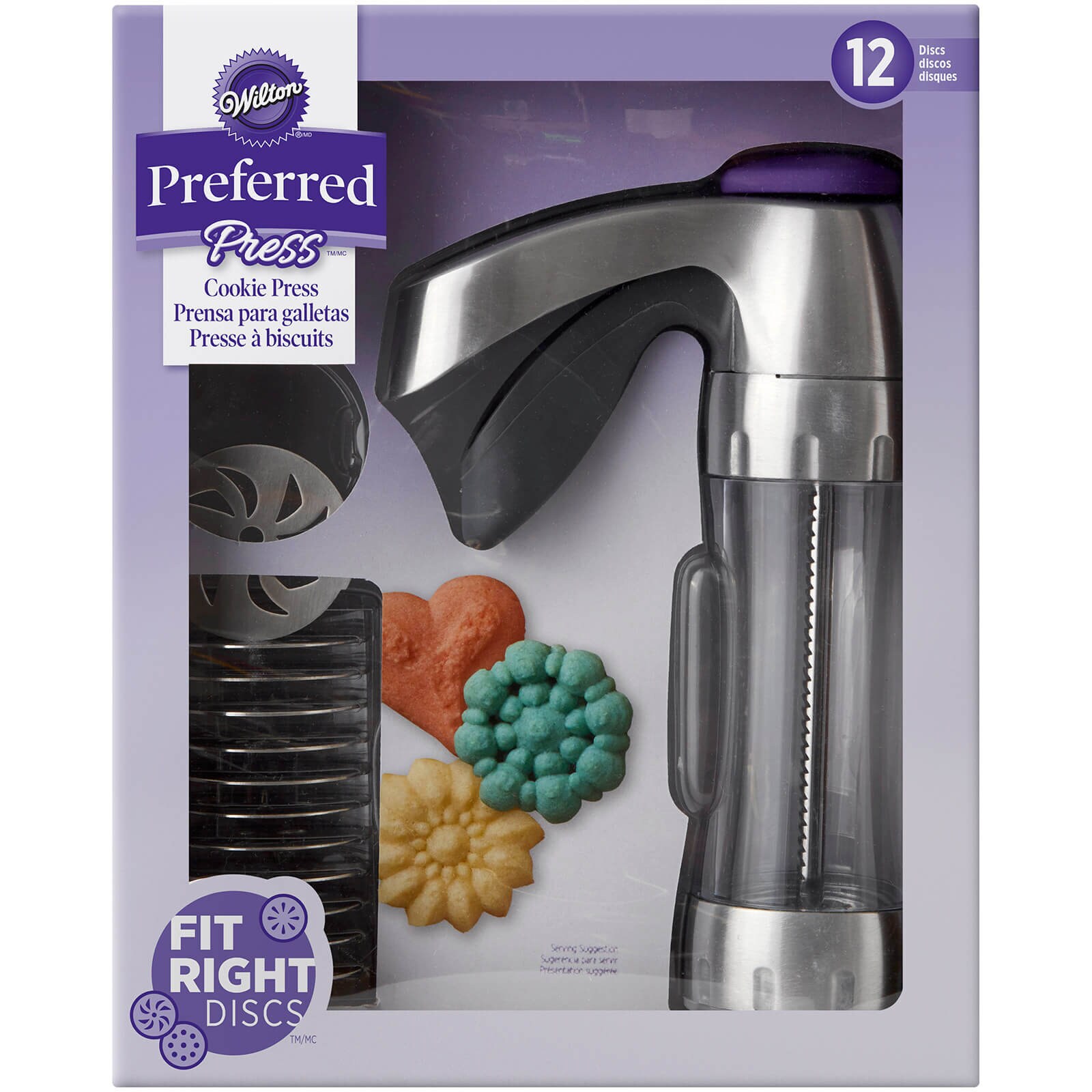 Wilton Cookie Press With 12 Metal Disks
Item #: 13011
Wilton # 2104-2629 / 191001678
Making traditional spritz cookies has never been so easy! Wilton's Cookie Press is designed to be the easiest to fill, the most comfortable press you've ever used. Your holiday cookie baskets will be more festive than ever! Non-slip bottom ring keeps press from sliding on cookie sheet so it's easier to make perfectly shaped cookies. The clear barrel lets you keep track of how much dough you have left so you'll never be disappointed with a half-formed cookie. The ergonomic, soft-grip trigger means a day full of cookie baking won't leave your hands hurting, and it's easy enough to handle that the kids can help! Includes complete instructions and delicious recipes. Perfect for making Scandinavian spritz cookies, also known as butter cookies. Make ribbon cookies filled with sweet treats or sandwiched with preserves, holiday spritzes sprinkled with colored sugar, flower cookies with chocolate chip centers, or flavor the dough with extracts of your choosing. In addition, the cookie press can be used to make savory snacks in flavors like cheddar cheese, barbecue, and more. Includes instructions and recipe booklet. Hand wash and dry thoroughly.

Press Measures : 3.4" x 8.8" x 10.9".

Set includes 12 metal discs : Christmas tree, wreath, snowman, pumpkin, turkey, dot pattern, sunburst, pinwheel, doily, heart, starburst and biscuit.

Helpful Hint : Always make recipe included so that you can see and feel the consistency of dough required for this press. Thus making it easier to make your own recipe the same consistency.
Price: $34.49