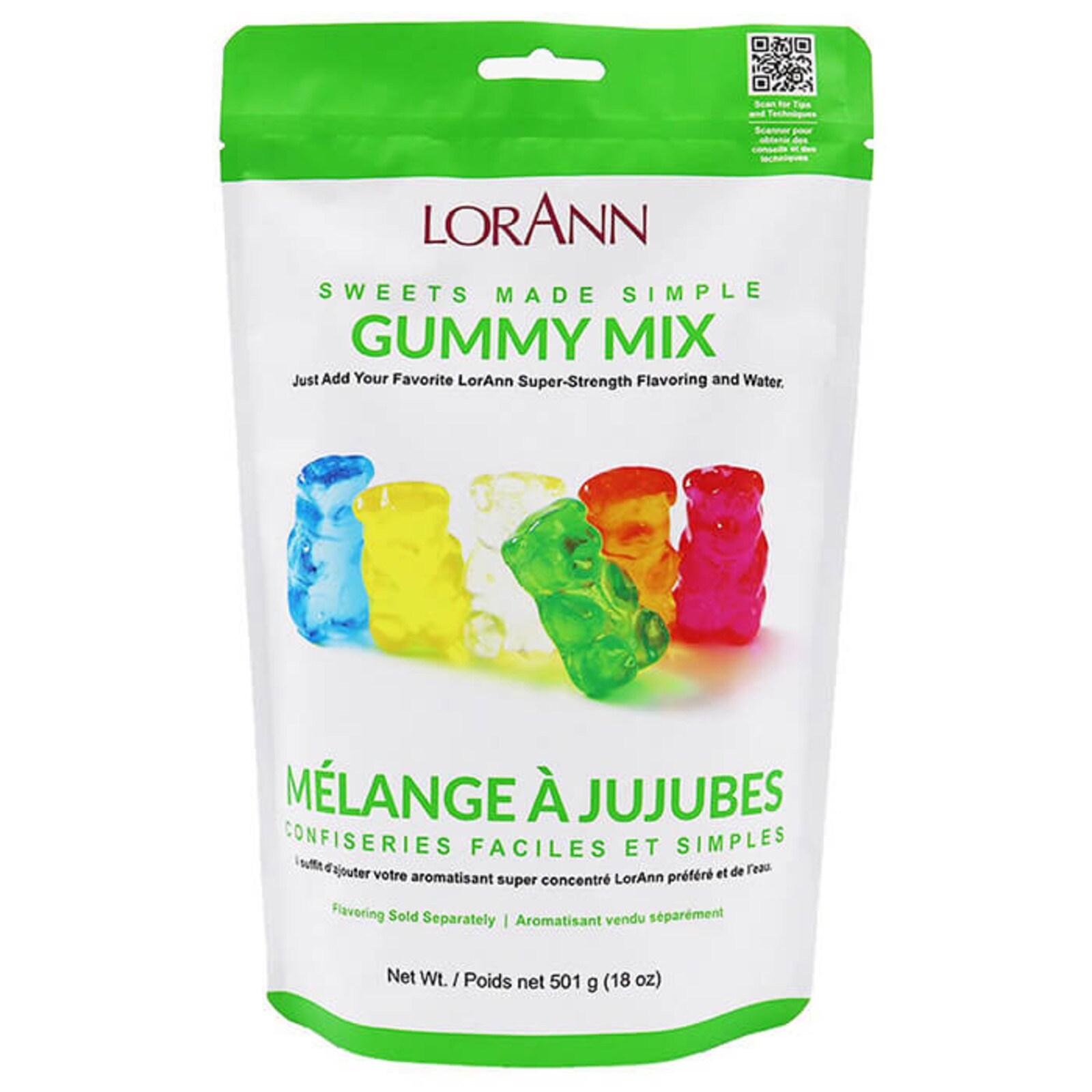 Gummy Mix 18 oz / 501 g
Item #: 6080
LorAnn's Gummy Mix will become your new favorite way to make fruity and eye-catching gummy candies. From cute gummy bears to crawly gummy worms, the shapes and delicious flavor options are endless for all of your creations!

It's so easy to customize with McCall's colors and LorAnn flavors (sold separately).

How To Use LorAnn's Simple Gummy Mix

In a small bowl, add ¾ cup cold water. Sprinkle entire contents of gelatin packet over water and gently mix with a fork until gelatin is completely saturated. Set aside for at least 5 minutes to allow gelatin to bloom.

In a medium saucepan, add 1/4 cup hot water. Add contents of gummy mix packet and turn heat to medium-low or low. Heat at a slow simmer, stirring frequently, until mixture is smooth and no lumps remain. While mixture simmers, brush sides of pan with a wet pastry brush to dissolve any remaining sugar crystals.

Remove pan from heat. Once boiling action ceases, add bloomed gelatin and stir until completely dissolved. Allow mixture to rest for 5 minutes, then use a large spoon to remove and discard foamy layer.

Stir in 1 to 1-1/2 teaspoons LorAnn Super-Strength flavoring. Add food coloring as desired (optional).

Fill mold cavities* and allow gummies to set at room temperature for about 1 hour or until firm.
*Use of a dropper to fill mold cavities is recommended

Remove gummies from molds. Allow candies to airdry at room temperature (do not cover) for at least 6 hours. Store dried gummies in an airtight container.

Our Top Tips

Making gummies is a fun family activity! Grab the kids and head into the kitchen to get making. Using a dropper, kids can easily fill gummies into the mold cavities.

It pays to be patient! Mix gelatin gently. Mixing too roughly results in extra air, creating air bubbles and making the gummies less smooth and clear.

Why should you use fruity flavors? Citric acid is an important ingredient in gummy candies to help wake up the flavor. This is why we recommend using fruity Super-Strength flavors when making gummies since they complement citric acid.

If mixture begins to harden before all of the cavities have been filled, warm on low until mixture becomes pourable.

For easy clean-up, soak your pan and utensils in hot soapy water until hardened gummy mixture has melted.

Price: $12.79